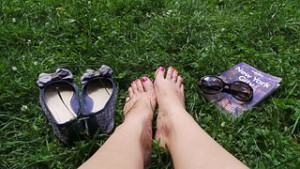 What is the best treatment for plantar fasciitis? Typically, the best sore heel pain treatment is based on what caused the pain in the first place.
With the exception of more severe cases of plantar fasciitis, heel pain can be normally be reduced and eliminated through simple, common, home therapy.
There are many types and variations of treatments so you may have to try several to determine what works for you. Typical home therapy may include anti-inflamatory / pain relief medications, stretching, icing, orthotics, self-massage, physical therapy, resting your foot, and just plain common sense with regard to activity levels.
If those common measures don't work for you, then you definitely should see a doctor to determine the best course of action. There are a number of alternative treatment options outside the realm of home therapy. Your doctor can help determine which of these options might be best for you.
Treatment Options
Select the Treatments drop-down menu to access a list of treatment categories. Next, click on the category to reveal articles related to specific treatment options.
You can also quickly access information regarding various treatment options using the links that follow. The links have been alphabetized for quicker referral. Just click on the appropriate link to access information about that type of treatment.
Achilles tendon massage
Calf and leg muscle massage
Children's heel pain
Deep tissue massage
Diabetes and heel pain
Electric foot massagers
Epsom salt soak
Herbs
Massage sticks and rollers
Plantar Fasciosis (definition)
RICE method of initial self-care
Self-massage techniques
Thumb massage for the plantar fascia
Trigger point therapy for calf muscles