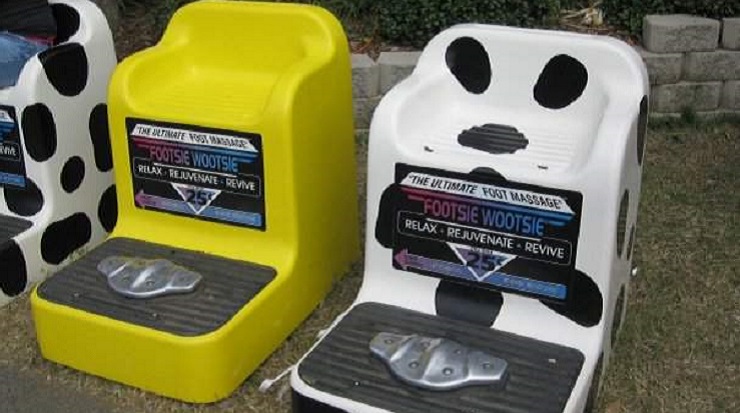 Massaging your feet normally helps relieve some of the pain. Consider electric foot massagers and plantar fasciitis. The big question is: can such a device actually help heal a problem like plantar fasciitis?
Well, if a simple tennis ball or frozen golf ball can be used as a massage treatment for plantar fasciitis then surely other tools on the market can be helpful in reducing heel pain.
Obviously, the best foot massage you could get would be from a trained therapist – or so one would think. Many people, however, have neither the time nor funds to get regular foot massages in that manner. In addition, many people do not care to learn or do not feel comfortable performing appropriate self-massage.
For these reasons, massage tools have become popular alternatives. Such tools can be categorized into four types: electric foot massagers, massage rollers, balls, and stones.
This article, the second in my series on foot massage tools, focuses on the electric foot massager tool type.
Caution – Before You Buy
As you probably are already aware, your feet have a higher concentration of nerve endings than any other part of your body. Because of this, massagers in any form can help stimulate your feet, relieving at least some of the soreness and stiffness associated with the day-to-day abuse absorbed by your feet.
I say this somewhat cautiously because you will find that much of the advertising for massage tools seems to possibly exaggerate the benefits of the tool. Granted, any given tool may be the best answer for a given individual. You can read the amazing results that a specific individual had by reading their testimonial or comment on a given blog post.
Remember that each of us is different, however, so the tool that works for some other person may not be the best for you. Before investing in any type of tool, think about your own feet. Determine where your feet hurt the most and, if possible, what is triggering any pain you might feel.
Once you have done this, do some research to determine what type of tool might help relieve the type of pain you are enduring. Also, consider how much you are willing to pay to relieve that pain.
Benefits of Massage Tools
What general benefits can electric foot massagers, rollers, balls, and/or stones provide? Here are several benefits that may be derived from a gentle, repeated massage:
It just feels good

– As noted earlier, our feet are perhaps our most used body part. They often are abused by tight shoes, standing too long, or through exercise. At least some level of relief from general muscle fatigue and stiffness, as well as nervous tension should result from massaging your feet.

Stimulated circulation and oxygenation

– Almost any type of massage will help in this way. The better the massage, the more this benefit will be enhanced. Temporarily increased blood circulation helps release toxins and lactic acid that may be trapped in muscles and tendons. It also increases the flow of nutrients to cells in those muscles.

An aroused immune system

– This may help promote healing. It certainly won't hurt!

Decreased stress levels

– Researchers have noted that foot massage has led to a significant reduction in stress.
Note that a good number of massage tools are described as being reflexology tools. Reflexology massage is based on the process of massaging specific areas on your foot, each area supposedly having nerve endings that are connected to a specific organ in your body. The process is intended to stimulate circulation, get rid of stress, and promote healing throughout the body, not just on your feet.
Obviously, to claim this whole-body benefit, you must first accept the concepts of reflexology. You can find doctors and individuals who swear by it, others who say it is not rooted in scientific fact. If it is true, then reflexology-capable tools can activate the pressure points on your feet and release energy that will not only help regenerate your feet but also spread healing to other parts of your body.
Electric Foot Massage Machines
There are numerous foot massagers that fall into this category. Price-wise, they range from affordable to possibly out-of-your-budget. Their function ranges from simply providing steady vibration to multiple speeds and multiple options such as rolling, kneading, heat, and hydro-therapy; options that provide a deeper massage for your feet.
Simple but steady vibrating massagers can be helpful for general relief of foot stress and may provide some level of myofascial release. Such a tool will probably not have any real healing effect if pain exists, however.
The video below provides a quick review of one type of massager. This one provides a little more than just vibration but it isn't elegant, by any means.
At the high end of the price and function spectrum, massagers may provide a combination of options. These may include options such as rotating nodes that can provide a deeper, penetrating massage; compression massage, where you place your feet into "wells" that inflate and then deflate; and infrared heating settings. Options such as these provide an increased chance that the massager will actually help heal a problem such as plantar fasciitis.
Following is a short 2+ minute review by TheBargainHound of one such foot massager. The massager being reviewed is considered one of the better machines available today:
Common Issues
One great thing about using electric foot massagers is that you can multi-task while you are receiving your massage. Since you are in a sitting position you can be watching a movie, reading a book, or talking on your phone at the same time.
Not everything is perfect when it comes to purchasing a foot massager machine, of course. There is always a possibility for dissatisfaction. On the videos we saw concerns/complaints about the high price, the weight of the machine, and the fact that they can be uncomfortable due to too much pressure. Just remember that we are all built differently!
Another potential issue with mechanical devices such as an electric massager is that it may break or work improperly. In written reviews, this appears to be a fairly common complaint.
Summary
So, can we answer the question as to whether electric massagers can potentially heal plantar fasciitis?
Certainly they have their place in the line of treatments available and, for some, they may help to significantly reduce the pain. What has been noted all along, however, even within this article, is that each person is different.
Give it some thought and share your opinions. What type of massagers have you tried? Were they sophisticated? Was your massager worth the money? Did it get stuck away in a closet, never to return to service after a short period of time? Your input is appreciated.