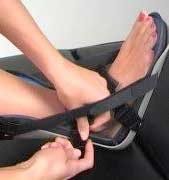 What are the best products people have used to help relieve plantar fasciitis pain? You will find reviews of heel pain relief products here.
If you search the internet you'll find hundreds of products claiming they can help, or even cure, heel pain. It can be very time-consuming to search through all the information to find the product that might work best.
Remember, the highest price will not necessarily bring the best result.
How I Create My Reviews
I am on a mission to find the best products for heel pain relief and to convey appropriate information to you about these products. To accomplish that, the reviews on this site will be as thorough as possible.
There is certainly no guarantee that any specific product will give you the same results it gave me or someone else. I do, however, want to provide you with an honest and educated opinion based on experience, if at all possible.
Perhaps you have had experience with one or more of the products that have been reviewed. If that is the case, I would love to hear from you regarding your thoughts on the product and how it worked for you – good or bad.
Do You Have a Product You Want Me to Review?
I will be doing reviews quite often.
If there is a product that you are interested in that I haven't reviewed, please let me know. Enter a comment below and I will be happy to provide a review of the product in the upcoming future
Product Reviews
The following review list is sorted first by product type and then alphabetically by product. The links will lead you to additional information regarding the specific heel pain relief products.
Boots
Insoles & Inserts
Massage Devices
UComfy shiatsu heated foot massager
Shoes & Slippers
Socks
Splints & Braces
Futuro adjustable night splint
Toe Spreaders and spacers
LemonHero foot care toe spacers
Wraps