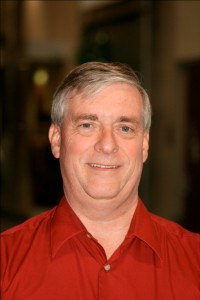 Welcome to my Eliminate Heel Pain website. I'm Allyn and I struggle with plantar fasciitis pain.
I first encountered this foot issue while on vacation at Disney World in Florida (USA). In fact, it was our first evening at Disney World.
After walking around Epcot that evening, we went back to our room and got ready for a good night's sleep. I woke up about 1:30 am, needing to use the restroom. When I stepped out of bed, I almost went down face first on the floor. The pain was excruciating!
There was no doubt in my mind what this was. I had been studying it for some time.
But, enough of that. You can read more about my story and the ongoing battle with plantar fasciitis in the Plantar Fasciitis Forum.
Needless to say, the bounce in my step was gone the rest of our vacation. I struggled along each day, resting my foot as best I could as often as I could.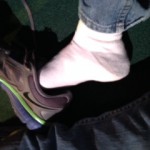 I will share that the picture to the left is what I did every chance I had! The shoes had good padding but it still hurt to walk.
Why I Created This Site
As I researched plantar fasciitis and heel pain in general I realized that there were many good websites that defined plantar fasciitis, describing the symptoms and providing general information regarding treatment. Some even shared a few common exercises (stretches) that could help strengthen the tissue and avoid re-occurrences of the pain issues.
Meanwhile, many sites focused on only one aspect of the issue. I really only found one website that provided all the information I wanted to know about.
Some of the more complete sites were medically oriented. These were the sites that were typically more comprehensive in their descriptions than the rest. Unfortunately, as I dug into this topic I found conflicting information on a few of the sites. Several sites focused on more recent research, indicating that different issues might be causing heel pain.
Then there were the "solution" sites … and there were many of them. The treatments, remedies, and answers were presented in many forms. Some sites even claimed that their answers would clear up heel problems in a couple days and that the pain would be gone forever.
But again, each site tended to focus on one type of solution, as if theirs was a "one answer covers all cases" answer.
Finally, I found numerous product sites, most with no real discussion of the product. How in the world does one know which product is best? Is the higher priced product better? Will it relieve the pain faster?
The idea behind this site is to try to incorporate all aspects of heel pain, beginning with plantar fasciitis specifically, from definition to diagnosis to treatment. I intend to point out products that appear to be best for a given situation.
Please Provide Feedback
Let me state clearly that I am not a doctor nor do I have credentials that make me a medical expert in any way. Please consult your doctor if needed.
I am simply one who has felt the effects of plantar fasciitis and am still dealing with it.
The intent of Eliminate Heel Pain is to provide information and advice that is helpful to others who suffer with heel pain.
I am open to comments, opinions, and questions. Please feel free to enter your thoughts in the comment area below or write to me at allyn@eliminateheelpain.com. I will be happy to try to answer your questions or discuss my content with you.
Cheers,

Founder of Eliminate Heel Pain
eliminateheelpain.com