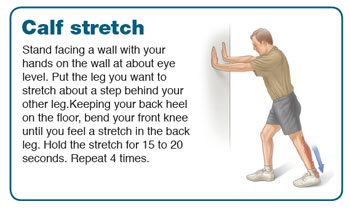 Numerous simple, low-impact exercises help plantar fasciitis sufferers by gently stretching muscles and tendons without overextending them. Recommended exercises for plantar fasciitis relief include calf muscle, Achilles tendon, and plantar fascia stretches.
The best part is that these heel pain relief exercises can be completed in the comfort of your home in just a few minutes each day.
Performing these exercises regularly may even help to block further issues with heel pain.
Common Exercises for Relief of Heel Pain
It is highly likely that you have done some of the more common stretching exercises previously, especially calf stretches, which also stretch the heel cord and foot arch, and Achilles tendon stretches. You may also have done toe stretches if you've had issues with your feet. For some of these simple, yet effective, exercises there may be more than one method to do them.
Certain stretches may require the use of a "tool," such as a towel, to aid in stretching the plantar fascia.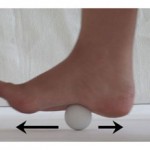 Other exercises are intended to both stretch and massage your fascia. These will also require a tool, perhaps something as simple as a soda can or golf ball, or you may choose to utilize a more sophisticated device specifically intended for massaging the bottom of your foot.
You can find exercise tips scattered on a number of websites and also on YouTube. Thus, the intent of this area of EliminateHeelPain is to gather information about these tips and exercises into one place.
Exercise List
In the list that follows, locate the exercise you are interested in and click the link to read or view additional information about that exercise.
Alternatively, you can click on the Exercises drop-down menu and select the exercise.
Frozen Water Bottle Fascia Massage
Golf Ball Fascia Massage
Great Toe Extensor Stretch
Heated Water Bottle Fascia Massage
Lacrosse Ball Fascia Massage
Marble Pickup
Pencil Pickup
PVC Pipe Fascia Massage
Short Foot
Tennis Ball Fascia Massage
Toe Curling and Splaying
Toe Extensor Stretch
Toe Lifts
Towel Toe Grab
Towel Pickup
Water Bottle Fascia Massage