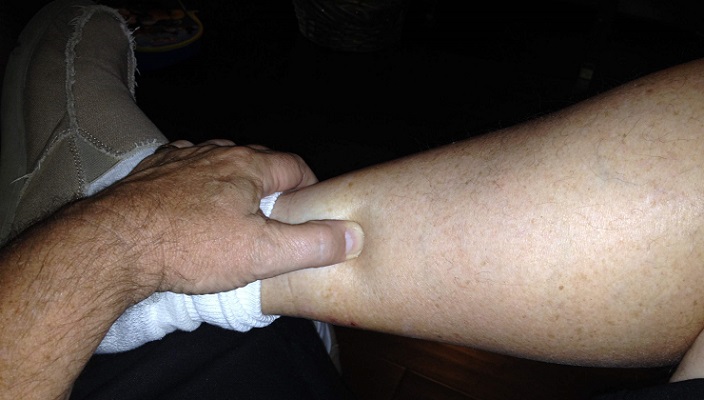 This post focuses on how to self-administer trigger point therapy for feet, specifically to relieve the pain of plantar fasciitis. The concept of trigger points will be introduced and then several videos will be presented to demonstrate the procedure used to find and eliminate appropriate trigger points.
In a previous post entitled Deep Tissue Massage and Plantar Fasciitis the five primary techniques used in deep tissue massage were reviewed. The third technique, Static Pressure, involves putting firm pressure onto a sore spot in your muscle with the intent to "release" the soreness. This procedure of applying static pressure is what is commonly known as trigger point therapy.
Understanding Trigger Points
There is a significant amount of information on the internet discussing trigger points. One article, simply titled Foot Pain, describes how trigger points began to be recognized in the healthcare profession and how they are related to foot and heel pain.
Knowledge of trigger points exploded when, in 1983, doctors Janet Travell and David Simons published the first edition of Myofascial Pain and Dysfunction: The Trigger Point Manual.
Trigger points can best be described as small areas of highly contracted muscles, or knots. According to Travell and Simons, knots are typically caused by either poorly conditioned muscles or ones that had been overworked.
These isolated muscle knots often spasm. When they do, they cut off the blood supply to the area around them. And when that happens, you feel pain!
Myofascial Pain Syndrome
Under certain conditions a collection of trigger points will build up in a small area of the body, resulting in what is called Myofascial Pain Syndrome (MPS).
The following four-minute, animated video created by Alila Medical Media provides an excellent overview of trigger points, MPS, and techniques to release the trigger points.
Trigger Points and Referred Pain
Muscle knots, or trigger points, are the most common reason for pain found in the feet, toes, and ankles. Research by Travell and Simons revealed that in 75% of all cases the primary cause of pain was due to trigger points. Additionally, they discovered that trigger points were involved in almost every situation involving pain.
Most importantly, they showed that trigger points held a secret. These muscle knots tended to "refer" their pain, that is, they sent their pain to a different spot in the body.
With regard to heel pain, the doctors described how trigger points in the soleus muscle, a muscle in the calf, referred pain to the heel.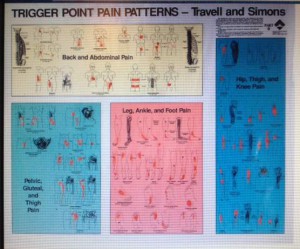 Really? Muscle knots in the soleus cause heel pain? According to Travell and Simons, the eleven muscles in our lower leg should be considered as foot muscles.
What does this mean? It means that your foot pain might not stem from your foot at all. The pain may be coming from your lower leg muscles. Obviously, if that is the case, no amount of rubbing or soaking your feet will get rid of the pain.
That being the case, we need to learn how to "release" the trigger points in our calf muscles and make the sore spots disappear. Doing so can help take care of existing plantar fasciitis pain. Longer term, it can help prevent such pain from reoccurring.
So, let's look into this a bit more …
Trigger Point Therapy and Plantar Fasciitis
Deactivating trigger points in your calf muscles can result in significant pain relief. To do this, of course, you need to locate the area on your soleus muscle that needs attention. A map of trigger points on the body, based on the type of pain you are dealing with, can help you find the correct location.
For example, the map of trigger points that may be responsible for plantar fasciitis morning pain shows trigger points in the tibialis posterior, flexor digitorum longus, and flexor hallucis longus. Meanwhile, the primary symptoms for heel pain suggest trigger points in the soleus, quadratus plantae, and abductor hallucis muscles.
Of course, each person's body may be slightly different. The soleus is a common source of trigger points that refer pain to the heel. In the following videos (one and two minutes, respectively) you will see how to locate the soleus trigger point on your own leg.
But There is Always Some Controversy
As one might expect, we can find some disagreement as to the science involved with trigger points. For example, in his article Massage Therapy for Tired Feet (and Plantar Fasciitis), Paul Ingraham states that, "Trigger point therapy may or may not be scientifically accurate."
I'll note further that in another article entitled Save Yourself from Plantar Fasciitis, Ingraham writes, "Massage therapy is actually one of the least effective of the common therapies for plantar fasciitis."
Even so, he still notes that massage can relieve some amount of pain inexpensively and safely. In the article Basic Self-Massage Tips for Myofascial Trigger Points, he promotes the idea of learning basic self-massage for the relief of most trigger point pain. Ingraham indicates that most trigger points can be stimulated by any type of massaging action that focuses, even briefly, on the spot of pain. He notes that most will "release" with as little as 30 seconds of trigger point massage.
The key is that this isn't rocket science and anyone can do it.
Trigger Point Therapy Tools
The previous videos showed you how to use your thumbs to put pressure on trigger points. There are also a number of tools or devices that can be utilized to help gain better access to trigger points in your leg muscles. The following two-minute video shows how to use a block and/or tennis ball for this purpose.
You can also purchase devices that have been developed for the purpose of massaging muscles and releasing trigger points. Trigger point (TP) balls, exercise blocks, and trigger point therapy rollers are among the products available for purchase. More will be covered on these in the products section of this site.
Appreciate Your Comments
I would love to hear from you. Please share experiences you might have had with trigger point therapy, especially if those experiences are related to calf muscle trigger points.
Did the therapy do any good? How long did it take for the pain to subside?
Share your comments and opinions in the comment area below.