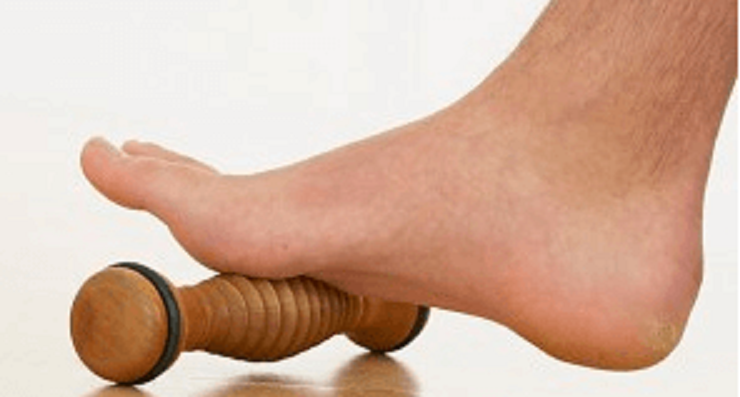 This is the third article in my series on foot massage tools, this time focusing on massage sticks and rollers. Similar to how tennis balls and other types of balls can be used to aid in foot massage, these tools tend to be simple, inexpensive, and easy to transport.
To use this type of massage tool you can simply sit in a chair (or you could stand) and roll your foot back and forth over it. In some situations, though, it may help to hold the stick or roller and manually roll it back and forth over the bottom of your foot.
Previous posts have already discussed two other types of foot massage tools: Electric Foot Massagers and Plantar Fasciitis – Are They Helpful, which also provided information regarding cautions and overall benefits of using massage tools in general, and Anyone Can Do This! Foot Massage with a Ball.
The Myriad of Rolling Tools
Rolling tools come in various shapes and sizes. Most simple rollers are made out of plastic, foam, wood, PVC, or bamboo.
Many are in the form of a simple bar or stick, 1-2 inches in diameter, with raised, flexible surfaces or "ribs" that stretch and knead muscles to promote sensory stimulation. Larger versions, typically described as foam rollers, can be as thick as six inches in diameter but these are not generally used for massaging feet.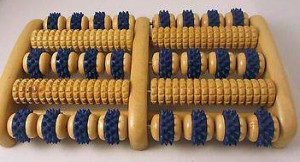 There are also "multi-roller" structures, constructed as a flat or slightly convex curved surface with multiple rows of small, individual rollers, each row holding 2-4 of the small rollers. This type of structure allows you to roll your foot over the top of the structure, engaging your foot with numerous rollers rather than struggling to keep one smaller roller tool under your foot. These multi-rollers have as many as 40 rollers total, each roller having its own "bumps" to stimulate your feet.
The "bumps" on rollers or "ribs" on massage sticks are typically small protrusions or indentations that, combined with a rolling action, provide more impactful stimulation for muscles and tissues in your foot. As noted previously, they stimulate circulation, helping to soothe and massage tired, aching feet.
No-Cost Massage Rollers
According to Anton Lowenthal, author of a short article entitled Get a Foot Massager for Little or No Money, households in Japan, "Often have a half-cylinder of bamboo that one steps on to put pressure on different parts of the feet." He noted that numerous other objects could be used including "a pine cone, firewood, a log sawn in half – almost anything can be used for this purpose."
Certainly these no-cost objects aren't as elegant as a well-crafted roller manufactured with foot massage in mind, however, the price is the best you can get! Just be a bit careful at first. If you already have a problem such as plantar fasciitis, some of these objects, the ones with sharp edges or prickly constitution, may be a bit rough based on your tolerance level for pain.
One other no-cost roller comes to mind: a plastic water bottle filled with warm or room-temperature water or frozen to provide both an icing effect along with a massage. You can read about the benefits of water bottles in the article entitled Practical Water Bottle Massage Therapy for Plantar Fasciitis.
Comparisons to Other Massage Tool Types
There are several advantages to using a rolling device over an electric massager:
You are in control – In fact, you have complete control over the pressure applied and the force used for your massage;
Take it anywhere – They are easy to use and very portable;
Cost – Typically, these devices are small and inexpensive, costing between $10 and $35;
Won't break down – Unlike electric massagers, they have no moving parts that can break down;
No external power source required!
Are there disadvantages compared to electric foot massagers? Yes, there are. Number one, you have to move your legs continuously to get the massage. There simply is no massage if you stop moving your legs and feet. Another disadvantage is that massage sticks and rollers cannot provide some of the functions that electric massagers may provide such as hydrotherapy (water therapy), heat, and/or the ability to massage multiple parts of your foot at one time. Obviously, rollers cannot duplicate these features.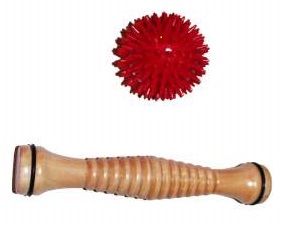 What about comparing massage rollers to massage balls? When you consider their purpose, they seem very similar. Do rollers provide more or less relief than a ball when it comes to massaging your feet?
Well, first of all it depends on which massage ball and which rolling tool you compare. There are so many of each of these types of tools on the market and they vary in what they have to offer.
Based on the opinions of numerous trainers, doctors, and therapists who have posted on the internet, along with many comments from those suffering with plantar fasciitis, the answer to this question is that it probably is a toss-up.
There has been one thing that appears to stand out when researching this comparison. It is that the bottom of your foot appears to be stimulated more by something with ribs or bumps (ball or roller) that can dig into smaller spots and that can help focus on specific sore spots or trigger points. Not all rollers or balls can do that.
Let's Take a Look
The following video by James Tatum describes the use of one very simple type of massage roller.
Want to make your own foot massage roller? If you own a lathe or know someone who does, it apparently isn't all that hard to make a wooden massage roller using a chisel. The next video, by Peter Brown, gives a quick three and a half minute view of how it can be done.
How This Type of Tool Can Help
In most cases, foot massage rollers are used to assist with sport massage and general relief of tight, sore muscles. The texture (bumps) can aid in myofascial release, a process that allows muscles and tissues to relax, thus promoting pain relief and elimination of soreness.
Some rolling tools are made in such a way that they can also assist you in performing self-massage such as deep tissue and trigger point massage. For example, if created for such a purpose, the end of a rolling device could be utilized to place pressure on a specific trigger point.
With regard to trigger points and reflexology, one product description noted that you do not have to believe in reflexology or even know what it is to enjoy the relaxation provided through use of the device. The description stated that using any rolling device will typically leave you with a tingling feeling in your feet.
But can these simple devices actually help eliminate plantar fasciitis?
According to the website Beyond Talk, rolling devices are "especially useful if you are experiencing sore feet or conditions like Plantar Fasciitis." The opinion is based on the idea that this type of massage tool can aid in myofascial release.
Perhaps it is best to say that these tools can most likely aid in relief of some portion of plantar fasciitis pain. Since everyone is different, however, it is impossible to say that any one specific type of massage treatment will definitely eliminate a problem such as plantar fasciitis.
Feedback and Questions
So many tools that can be used to aid in massage! And so little scientific study to test whether massage can actually aid in the healing of plantar fasciitis or the elimination of heel pain. How can we know?
What we do have is a multitude of foot specialists, trainers, and doctors who swear that deep tissue massage has helped many of their patients who have come in with this type of problem. Plus, we can read many comments from those suffering with heel pain that confirms that massage has helped relieve at least a good portion of the pain.
How about you? Any testimonials of massage to share? Or, have you tried massage only to have it fail to provide any type of relief? I would love to hear from you.