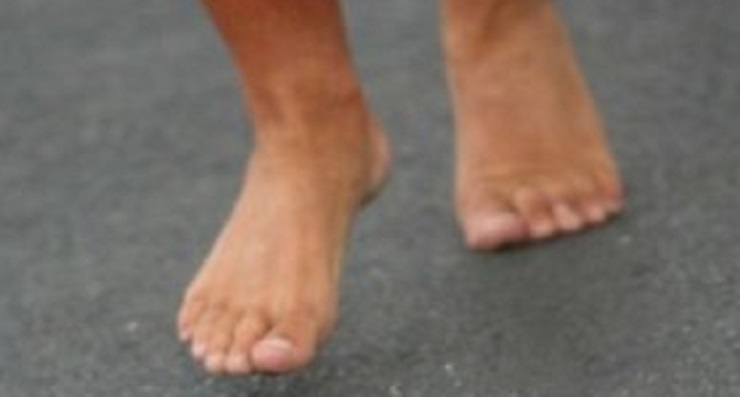 A number of simple exercises for toes, if performed consistently, can help strengthen your feet and eliminate future foot pain. This includes the debilitating pain of plantar fasciitis/plantar fasciosis.
Lack of strength in your feet is one type of condition that can lead to difficulties with plantar fasciitis/plantar fasciosis. The exercises described in this article help build up and strengthen the muscles that support the arches in your feet. Strengthening these muscles can help improve your posture as well as the functioning of your feet.
Exercises to Strengthen Your Arches
The following video, developed by Dr. Donald Ozello, discusses the importance of foot strengthening. It focuses on three simple exercises called short foot, towel toe grab, and toe curling and splaying. These exercises focus on strengthening the muscles that support the longitudinal arch of your foot.
Scroll beyond the video to find a step-by-step summary of these three exercises.
Short Foot Exercise
Place your foot flat on the floor with your knee bent at 90 degrees.
Without curling your toes, press your toes into the floor and pull your big toe towards your heel. This raises the arch of your foot and makes your foot "shorter". Hold the position for 6 seconds.
Repeat the exercise 3-5 times, sliding your foot forward slightly each time to change the angle of your leg.
Repeat the exercise another 3-5 times, gradually sliding your foot back to its original position.
Towel Toe Grab
Put a small towel under your foot.
Curl your toes, grabbing the towel as hard as you can. Lift the front of your foot off the floor and hold that position for 6 seconds.
Relax your grip, letting go of the towel. As you do, lift your toes up and spread (splay) them as wide as you can.
Perform this exercise 6 times or more, increasing the number of repetitions as you build strength in your foot.
Toe Curling and Splaying
With your heel on the floor, raise the front of your foot slightly.
Splay (spread) your toes as wide as you can, holding the position for 2 seconds.
Curl your toes, as hard as you can, for 2 seconds.
Raise your ankle a little and repeat steps 2 and 3.
Repeat several times, each time raising your ankle a little higher until you have raised it as high as you can.
Toe Pickup Exercises
Picking up marbles or some other small object with your toes is a great way to build strength, coordination, range of motion, and agility in your feet. Strengthening the intrinsic muscles in your feet will help during recovery from plantar fasciitis and, long term, may help prevent any reoccurrence.
Marble Pickup
The following short video demonstrates the marble pickup exercise. Note that when you first begin to attempt this exercise, some of the small foot muscles may be weak. It may take some time to build up those muscles.
Sit in a chair and place both feet in front of you.
Scatter 20-25 marbles or small pebbles on the floor ahead of you where you are able to pick them up with your toes.
Set a cup or bowl near the marbles/pebbles.
Pick up the marbles or pebbles one at a time by gripping them with your toes.
Place the object into the cup/bowl.
Repeat steps 4 and 5 until you have picked up as many objects as you can.
Do this exercise with each foot even if your plantar fasciitis pain is only in one foot. Shoot for 3 times a week, 5-10 minutes at first. Increase the time and/or frequency as your feet get stronger.
Marble Pickup Alternative
A simple alternative is to eliminate the mug or cup and simply pick up and move the marbles from one spot to another, as shown in the next video:
Pencil or Towel Pickup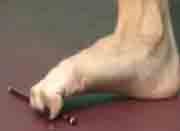 These two exercises are very similar to the marble pickup exercise. Instead of marbles, pick up a pencil or a small towel. Hold the object for 6 seconds each time. Repeat the exercise 10 times.
If you are doing the towel pickup exercise, you may find that it becomes too easy. When you reach such a point add resistance by putting a small book or weight on the towel.
Toe Lifts
This one may be a bit harder than it seems it should be.
With your feet flat on the floor, try to lift each toe individually, keeping all the other toes flat.
Perform this exercise three times (for all toes).
A Reminder
For all of these exercises, remember that you may have to start slowly and build up your endurance and pain threshold. This is particularly true if you have injured your foot or if you have reduced strength in your plantar fascia tissue.
Do you have trouble with foot pain? Were you aware of these simple exercises? Have you utilized any of these exercises to help build up the muscles in your feet? Please contribute any thoughts or experiences in the comment area that follows.